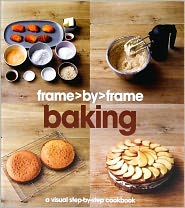 I've heard a lot of complaints about cookbooks that don't have enough pictures in them. One thing I like about a lot of the how-to books I've seen from England is that often they're all pictures with the only text being captions and callouts!
This is one of those kinds of cookbooks.
I like how they start with the mis en place (getting all the ingredients measured out and ready), then proceed with all the major steps frame by frame. I think it reduces the likelihood of mistakes, both on the part of the recipe author and on the part of the cook!
I'd like it even better if it called for whole-wheat flour so that our customers would have a use for the grains they're going to grow from seed bought from us, but most of the recipes are for pastries, which are probably easier to convert to white whole-wheat pastry flour than yeasted breads are to convert to hard whole-wheat flour. The bran in hard whole-wheat flour interferes with gluten development, by getting in the way when the gluten molecules are trying to join up end-to-end. It also absorbs moisture, thereby requiring a bit more liquid in recipes. There are a few yeasted-bread recipes too. In any case, as long as it's still available you can always use store-bought flour.
It's on-sale at Barnes and Noble, where I got my copy in the "last chance rack" for only $9.98, which is a real bargain for a professionally-written book with this many photographs. Click on the photo above to buy it at Barnes and Noble, or click here.
It's about a dollar more expensive at Amazon.com, but if you want it from there, here's the link.